Seychelles National Assembly Truth and Reconciliation Commission
Linyon Demokratik Seselwa
NATIONAL ASSEMBLY COMMUNIQUE: The Truth and Reconciliation Committee of the Seychelles National Assembly will be holding a National Symposium on Truth, Reconcil
iation and National Unity on Sunday, 07th May 2017, at the International Conference Centre Seychelles (ICCS), from 2.00pm to 6.00pm,
This historic event aims to accomplish the following goals:
• Listen to various presentations from international and local guest speakers with the aim of assisting in the design of a national engagement strategy for developing and implementing a national reconciliation framework, informed by the Truth and Reconciliation Committee recommendations;
• Examine international 'best practices' towards achieving a Commission on Truth, Reconciliation and National Unity, suitable for Seychelles, which will have as aim to study and analyse complaints by individuals affected since the Coup D'état; shed light on those events and find solutions and closure for individuals affected, so that the Country can move forward in unity;
• Create a platform for action, to chart a way forward towards achieving truth, reconciliation and national unity, in Seychelles;
• Share the findings of the work of the Committee to the general public; listen to suggestions/queries from the floor and provide sound feedback.
We just read at Facebook posted by the LDS political party of Sechelles Seychelles that you will be arriving 6/5/17 to speak on the South African Truth and Reconciliation process - then President Nelson Mandela and several others alive including his best Friend in Prison. In the first place we thank Facebook for its platform and functionality -Had it not existed nobody in Seychelles from the Government, the Justice, the NGO, the Opposition would have bothered to write and inform us and the interests we represent and have been promoting the past 30 years. We will be linking a blog we have addressed some of the topic/relates issues covering a number of well known Truth, Reconciliation Commission - In spite of being reasonably informed about South African politic and active some 40 years had not come across your person before - Please accept our excuse -
President Mandela Monument London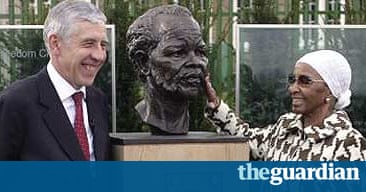 Given that we have a special speaker at that Sechelles Seychelles Truth and Reconciliation commission symposium, VP Meriton, Mr Barry Laine formerly from Britain, Sir James Mancham International Center University of Seychelles, Bishop Chang Hin Church of England, The Blair/Brown government special relation with South Africa since the change and Seychelles - had it been a Conservative Government those two Monuments never unveiled. Very important the very vibrant Seychelles South Africa thematic, that SIROP program - more important why/what that Monument unveiled by Minister Jack Straw Olivier Tambo North London was all about - that SIROP program again - we ask every body in that Seychelles including President Obama to intervene my person is not a racist or hate Black or their politicians - the need to for a fairer approach to presenting the debacles issues as they were other wise we will be compel to write issue which the global media have lied this would be a much bigger shame to the South African Nations and those who have spread the distortions for so many years.
We have tried all day to find out if the Symposium would be broadcast - we listened to both Local Radio we heard nothing. Yet Seychelles boast that it lay great emphasize on it special working with South Africa and in South Africa how this historic process was managed. Various comments from the Seychelles public indicate there are those who want to control the process - the 40 years of events presented their way. We are going to link an article of/by Bishop Felix Paul - in exile, the many Embassy, media, NGO who knew/well aware of the Religious constellation and opposition as such those from MPR/SNM who worked with the church, much more important the Catholic Church networks across Europe we worked that SIROP program with and today nobody was listed to come forward and take part and present the Catholic Church/its NGO views over the past 40 years events.; In which case we will have to publish what many will/may not like - the many Catholic NGO Network we worked and was associated with to get that SIROP program in place -implement.
12/5/17 - 23.45 PM
Given the thematic of Minister Alain St Ange, African Union and the UN what we have unhappily had to address to the public. Somebody raised the argument - why did not President FA Rene set up a Truth Commission to work the issues of British Colonial era and the Mancham Government. The unique opportunity this Truth Commission and National Reconciliation present. Sir James Mancham in several of his books en-devoured to address, argue and bring forth some of the painful thematic, worded and wrapped around very diplomatic language given his long year of world diplomatic parcour.
For one/anybody to qualify, acquire the knowledge, capacity to work such global and major nation economic issues one must have worked/acquired this knowledge and ability somewhere - here is the strange part and we would have preferred if this statement came for the UN or EU - the Britain of 1981, Europe, Africa was proving what we have come to term Interdisciplinary High Management Executive real concern. Refer to EEF/WEF Prof Shwab, Prof Dr Hofmann and Dr Von Hayak, other leading European Research Centers and publications, the IMF, World Bank and other UN appropriate Bodies. Let alone the economic situation in USSR, the COMECON, China, Latin America. After three very serious failed attempt to change Seychelles by force - having to come to Britain to seek political Asylum. The world respect for the great learning places of education Eaton, Oxford, Cambridge. Over the past 500 year the great individuals they have produced to develop the Colonial System it did far exceeding that of the Roman and other Empire builders. The reality of 1981 to 1986 the inability of those great Education centers to put forward individual who would/could develop/think of new Economic concepts/vision to drive/change the state of that Britain then - the British Illuminati, along with many of its then important institutions - the Government of Lady Thatcher, the media -our /my ability to impact and influence and impute in her government, politic and policy making mechanism - to bolster and supported this relied in turn on Prof Dr Micheal Hofmann, Dr Von Hayak, similar such person in Germany, France and Italy. Yet the combine did produce/contribute to improving the Economy of Britain - the real break through come in the form of that SIROP Program - from 1986 to date. With every humble due respect in the current Seychelles the SeyUNi is led by a British person and likewise Sir James Mancham International Foundation - unlike Mauritius Academic situation and Reunion - it impacting important degree of that Truth Commission setting up and future function - We repeat the person who had inquired on Facebook why had not President FA Rene set up a Truth Commission when he took power. The Church of England diocese in Seychelles is very modest and small compared to very many other Diocese. Both combine lend to a very adverse dynamic/intellectual synergy. Given the importance and relevancy of that SIROP program in the Indian Ocean - the extent those when to change other greater world parameters to achieve the change in the Indian Ocean the opportunity to look very critically what really took place and the very many why's. The facts that we were able to impute importantly in British economic between 1981 to 1985 and then come that SIROP program to 1986/7 to date provide everybody concern a very unique opportunity. We have stated time and time that within/part of that SIROP program was to take on board some of the old politic and planning of then Britain 1950 - the situation when it would have to depart and shed its colonies East of the Horn of Africa, their fate and future. Britain have had numerous great and very important politicians - none have been able to take/pick up these formulated ideas/thinking and put it into practice - that SIROP program did/have done this.
President Francois Holland dismissed his government 10/5/17 that SIROP program, President Obama era and President Donald Trump and that monstrous Britexit leading to a world conflict - one of the important reason we were entrusted with this high responsibility was/is our approach to understanding High Interdisciplinary Management disciplines whilst working, imputing in a given thematic the benchmark - There is a very great deal President F Mitterrand impute in that SIROP program we have never shared with the public and Mrs Danielle Mitterrand was custodian and privy until her departure/death. What we wrote to Mauritius in 2011 with her gone the decision to publish aspects of the SIROP program - We have noted those five Priests President D Faure have given Seychelles passport - this event was in Cluny and in the picture of Dr/Mrs Hilda Stevenson Delhomme the two sisters of Cluny. My person was/is sitting third row - my/our five years battle to get our Refugee status transferred to France under UNHCR resettlement protocol.
8/5/17
The Seychelles National Assembly organised a symposium at the ICCS on Sunday 7th May to learn through different presentations among other things, international best practices towards achieving reconciliation, unity through closure to bad experiences and events, share the findings and work the committee is doing with the public, get their inputs and suggestions in order to help the committee in drafting its recommendations to be submitted to the Assembly and subsequently to the President before National Day on 29th June 2017.
We have addressed a great about the

fundamental

christian

values

of

the Seychellois - the significant important of those values,

belief

in

conception

, working and

implementing

that SIROP

program

and those from South Africa taking part in the Truth Commission and

Reconciliation, the USA Adventist General conference, Europe, Africa and Asia impute/involvement

- "

Yesterday

President Emmanuel Macron teacher was interviewed by Franceinfo on

what

kind of pupil he was as a child and if he thought one day his pupil would become the President of France - that he is very proud in all humility" we are going to add two photos of the Old #Adventist church in Victoria as children - one of the Mauritius/President Pastor's son Mr Gervais Appave lead one of the world major UN/

International

Migrant Organization, In Australia

Pastor

Terry

Johnson

the

Johnson

Family - then Sauzier Family, the old Daddy Michel Property and Hunt Deltel, the Berlouis Family next to the church ex

Treasury

Building, later the Ernestine Garage and Mr Pool Round Tabler, the old Family at

today's

Barell Club, the Music shop

on

the

corner, the Frichot Family, the Savy Family, the Valabjhi family -

they

help make/

formulate

a person character and the writing of that SIROP program. The old Adventist School at Bel Eau, the elite Franco Seychellois Family

and

the British Expat

Residential

Area and the Bel Air

Cemetery

. Those heritage and ancient illuminate who look after us

growing

up and guided is in exile. Our Grand parents church at Ans aux Pins

today

the Basilica and the Church of England St Paul those families and parents related, their faith and belief - For/to that Truth and reconciliation

Committee

it means nothing safe their own agenda.
It is not the first time this video is brought to my/our attention again today 13/5/17, those who know/are aware - To Sir James Mancham much more knowledgeable about our Sechelles Seychelles what we have come to term Arcadian/greater Illuminati workings - and Mr Gerard Hoareau Leading our exile/refugee in exile - the meaning of addressing life, the Powers that be on a bended knees and the person of Princess Diana - and our very many issues. https://www.facebook.com/143042859570127/videos/145346272673119/
Talking of the Gresle family the old Adventist church the Barell Restaurant this is where the Round Table Seychelles use to meet and Mr Gresle was a Round Tabler. ( Later after we had written that research for Indian Industrial Investment and Promotion Center by UNIDO/IMF Vienna, Mr David Rakotopare Head of UNIDO India Ocean Africa division former Director of Madagascar Central Bank and in Law of President Didier
Ratsiraka
, the foundation work of the COI - the South African embassy and the Israeli and French, US Embassy in Vienna - he was aware and knew I/we had become an Interdisciplinary management Fellow/Executive of Prof Dr Hofmann IMI - He Headed University of Vienna Faculty of High Interdisciplinary Management. The granting of the Indian Ocean charter to my person - then Mr Guy Morel - SIM, He also knew of Prof Von Hayak the Thatcher and Conservative debacles and British economy, Europe and South African many economic and other debacle relating to Seychelles and our exile/refugee issues )
In London the South Africa Embassy, British government/Intelligence, President Nelson Mandela, ex Wife Mrs Mandela and other knew very who Mr Gresle was to us and later that SIROP program 1986/7
We have stressed very many times that Emblem/coat of Arms of our Seychelles EU Community was undertaken in Folkestone Library and the many aspects, science, Heraldry of South Africa we refereed to beside the similarity in our Flag - the very many impacting thematic to this day and in many years to come .
Indeed we are talking of the same person and Family - those who would say on such occasion Praise the mighty Lord - Hallelujah -
This dissertation is dedicated to the memory of my father Conrad Greslé (1937-1993).
We have been forced/compel to address three major and very significant OAU/AU thematic related to that SIROP program - the attitude of African Union towards Seychelles and the Person of Minister Alain St Ange. In particular the topic of African link to the Super Highway Broadband submarine cable starting form Portugal in 2002 then PM Blair government - those who reacted and from
12 -13/5/17 100 nations their National Computer System targeted
and the very grave situation resulting - we have address the Justice of Seychelles - yet over the past 15 years the amount of funds, grants, expertise, resources impute by the UN and countless other international bodies to help Seychelles understand and take its responsibility in the greater functioning and understanding such major situation - these should/ought to be included in the process , debacle and scientific approach, benchmark of that Truth Commission.
We have decided to added a link of
Wikiepdia Tsunami of 2004/5
- the two scientific camp on what triggered that Tsunami and some 250,000 were killed in a short time compared to the Traumas of the 40 years of event in Seychelles form 1976 to date. Again the scientific resources,money, training that have been imparted to Seychelles both form part of greater global functionality dynamic/synergy linked to complex working of that SIROP program those in Europe, the USA, Russia, China well aware of alternative dynamic and science and its impacts yet in that Seychelles what they have been brainwashed to believe. When nations refuse to listen the next time the outcome and the horrendous calamity they then have to confront.
Second President D Faure live Press Conference 15/5/17